The Michelin starred ramen joint, Tsuta, has opened up a new dining concept which is first in Singapore and the World. The newly opened Tsuta Japanese Dining Experience is located in 313 Somerset, next to several bus stops and right on the MRT, meanings it's not only tasty but super convenient as well. As Japanese cuisines lovers, we are super keen to check it out and work out where our favourite spot in Singapore is.
Eating off a set menu, we are here to try a little bit of everything. After a small wait, the food comes out. The Sushi Cones are rolls of homemade butter sushi rice available in three flavours, Ikura (S$8), Negitoro (S$8) and Uni Temaki (S$18). We choose the Uni and Ikura and are not disappointed.
One of our starters is the Salmon Carpaccio (S$9.80): salmon sashimi drizzled in Japanese Vinaigrette. This is sitting in a bed of greens made it taste even better. Not quite a sharing size (well for me anyway), but more suited as an individual starter.
The Maki Rolls we tried are the Salted Egg Rolls (S$16.80). They contain strong flavours don't use any sauces as full of goodness. We also tried the Avocado Ebi Roll (S$16.80) – these were large, enjoyable and have a bit of a spice kick. They also contain shrimp. Even though it is not seafood, the Wagyu Beef Roll (S$21.80), our favourite, is US beef on sushi rolls and we go for seconds no worries. This is our chosen sushi dish.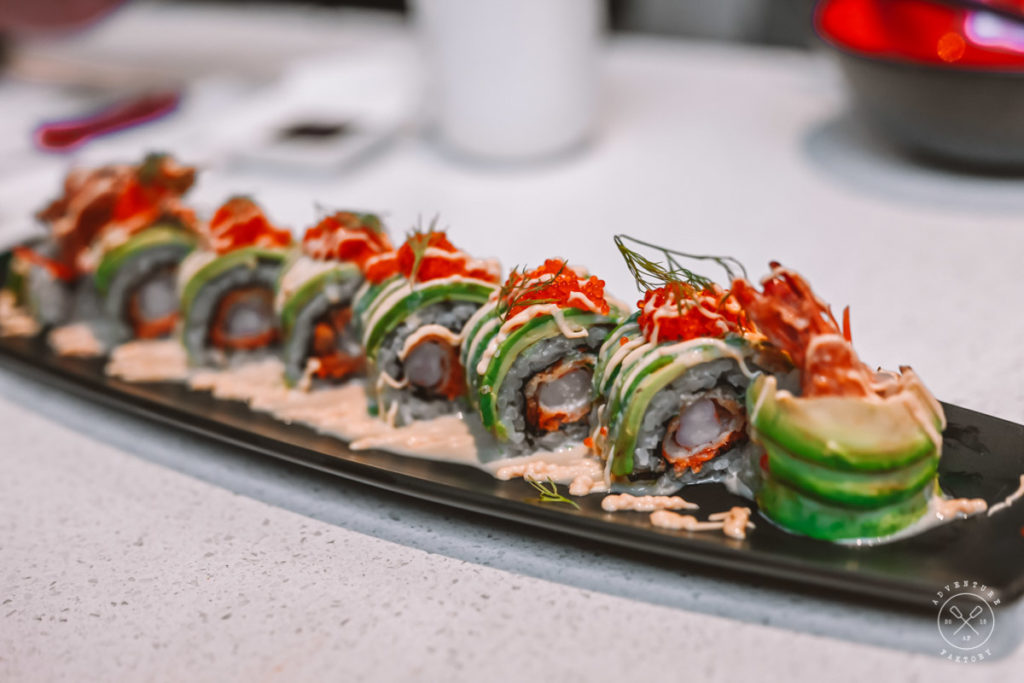 The Okonomiyaki (S$16.80) is a unique dish consisting of pancake with prawns, char sieu and cabbage. The bonito flakes on top actually move like a living object but the dish was surprisingly really yummy.
The Assorted fry platter has two of all their fried tasty goods and is great to have as a sharing platter. There were 4 of us so we had to choose very carefully and go with the fried tempura prawns.
Coming out at the end is the Wagyu Beef Don (S$19.80) which are succulent cuts of pan-seared beef with an onsen egg on top of a bed of rice and is a treat. This is a dish you don't want to share, so I didn't 🙂
Tsuta Japanese Dining Experience is the first in Singapore and also the first in the world and is not to be missed if you are a Japanese cuisine lover.
Tsuta 1-FOR-1 Michelin-starred Ramen
Due to lockdown, sister restaurant Tsuta is running from now till 13 June 2021 online an 1-for-1 promotion. 
1-for-1 Michelin-starred Ramen or Don from $18
1-for-1 Michelin-starred Ramen/Don Set for 2 from $38, which includes 2 ramen/don, 1 maki roll, 1 appetiser and 2 drinks
Tsuta is also offering 10% off deliveries for the month of May with promocode <TSUTAMAY> and 20% off takeaways with promocode <TAKEAWAYTSUTA>, simply place your orders from order.tsuta.com now.