We cannot travel, so what can we do? W Singapore in Sentosa, in partnership with Luxe City Guides, have come up with a great concept that is perfect for us. If we can't go to the destination, let the food and drink from that place come to us. Pseudo-Travel has never been so easy. The mission for us at W Sentosa Woobar? To eat and drink our way around the world all in the comfort of the bar at W Singapore Sentosa. Upon arrival, we already have travel placemats at the table with a teaser of the places we would be travelling to through the experience. The menu is such a cool concept: a host of postcards on which each has the description of our bites and tipples paired to a specific country/city each and a W Hotels property at that location.
Where are we travelling to today? W Hotels have guests in nine W Hotels destinations including Bali, Bangkok, Hong Kong, Melbourne, Osaka, Shanghai, Singapore, Suzhou and Xi'an.
The Travel Experience
We had several totally creative drinks come through that are part of the experience. The night starts off with a drink from Singapore, the Singapore Slingshot ($SGD18). Of course, there is a twist to this drink with Gin, Grenade, bitters, a cherry popsicle, triple sec and pineapple juice! And the coolest thing is that it is presented in a Tiger beer can (cover photo), how cool is that? A very sweet drink and a great way to start our travel journey.
While waiting for the food to arrive, the next stop is Indonesia, with the Bali Ballin'($SGD18), a tropical treat that reminds us of the island life in Bali and the fnn times we had at the W Bali back in 2017! The drink is served in a coconut, contains coconut water, rose wine, lychee syrup vodka, dragon fruit and watermelon. It is fresh and easy to drink and we also got to eat out the coconut meat and the fruits inside.
As we sip on our drink, we were served mini burgers! Australia is the following destination in the journey with The Oz Stacks ($SGD30). Served as a trio, we definitely wish there was more as they are jam-full of flavours and have delicious toppings. The dish is served on a bed of fries. Yummy. The Australian Waygu beef and horseradish are the highlights of the dish. We did have to fight for the last slider!
For our 4th stop, we were headed off to Japan with some of the Woobar's house rolled sushi, named MakiMaki ($SGD18). With torches salmon, pickled cucumber, yuzu mango sauce and parmesan cheese they are always going to have a unique taste. Other sushi on the plate contained Spicy tuna and a cucumber strawberry sauce. This is a flavour we had never combined before and having sweeter sushi is actually enjoyable.
As we are eating, our last drink arrived, all the way from China: The Made in China cocktail ($SGD18), a tribute to their first-ever craft Gin. There are so many flavours going on in this drink it is like a party in your mouth. Made from Peddlers Gin, Yuzu Tonic, white balsamic, cucumber and a massive feature red chilli. The chilli you can taste in every sip, but the cucumbers soothe you in the same mouthful. The gin was not overwhelming and it was the perfect refreshing drink to go towards the end of the journey.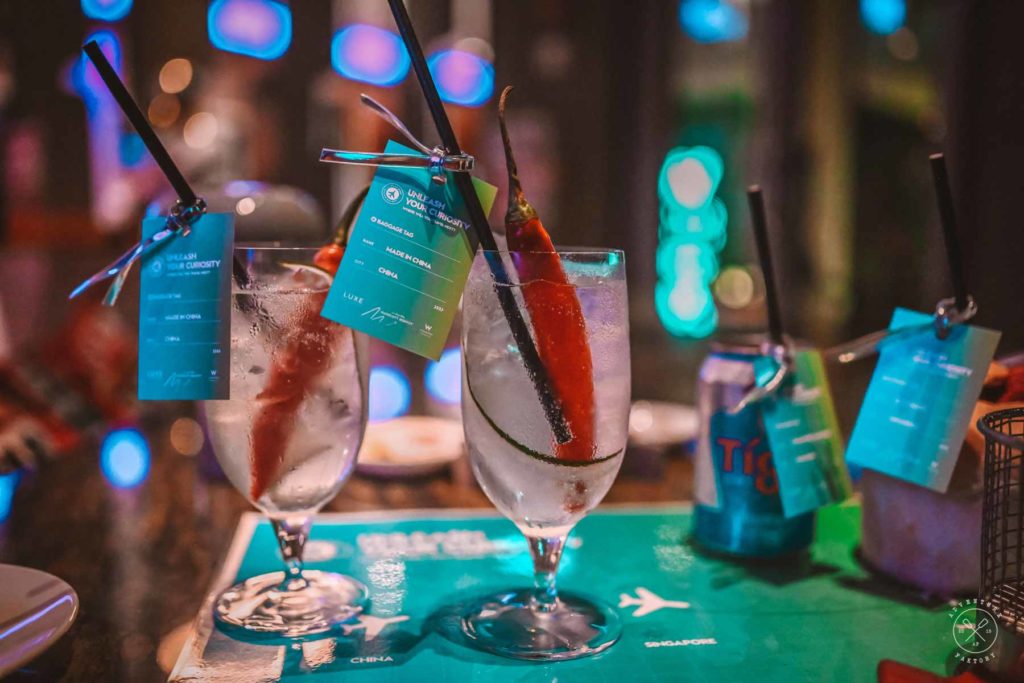 Now our favourite time (ok mine, because Thuymi is more into savoury), dessert time. We have 2 dishes to try and taste. Firstly, the Dim Sum Delight ($SGD16) all the way from Hong Kong is brought out and it looks like a Cantonese Pork bun, but it is a dessert. It is a white chocolate mousse with raspberry coulis and a dark chocolate sponge which is demolished in seconds. It is so creamy and easy to eat, the mouse with a chocolate base compliments it so well.
To visit our last destination, Bangkok, we have a Sweet Siam Panna Cotta ($SGD16). Made from lemongrass-infused panna cotta and soft jelly, it is a super simple, yet such a tasty dish. It feels like you are eating clouds, it is that easy to consume. It was the first time we had lemongrass panna cotta and it totally works!
Despite not being able to travel now, and all the sadness behind that, it is super fun to have a hotel that is making an effort to bring travel back. The menu took us on a one-way flight all around the globe and we are so glad to be a part of it.
The whole experience and presentation of it is so enjoyable and we really recommend it to you. So much effort is going into each dish and it truly makes you feel like you are on a global journey. If you miss travel and love food, make sure you book this and put it on your "to-do" list as it will only be available until the end of October 2021.