The departure 
As our flights were scheduled at 4:55 PM, we took an Uber to the Domestic Airport of Tan son Nhat.
Gates changed 2 times and we arrived in Nha Trang around 6:45 PM. 5 Minutes later before exiting the gates, Uri from Amanoi was already there waiting for us with a wooden sign with the name of the resort. He grabbed our bags and we were fast in the car on our way to the resort. A trip that is planned to be 1 hour and 15 minutes. We had wet towels and water for our refreshments. Wifi and an iPad was provided with all the documentations we needed to have an overview of our weekend. (Food & drinks menu, spa treatments, water activities, organized trips, etc)
// Le départ
Notre vol étant à 16:55, nous avons pris notre Uber vers 15:10 pour être certain de ne pas être en retard à l'aéroport Domestique Tan Son Nhat. Une Toyota Fortuner comme nous préférons tous au-dessus des Innovas, nous étions vite en route sans traffic vers l'aéroport. Comme d'habitude, les vols domestiques ne sont pas toujours très fiables et le personnel qui y travaille non plus. Notre gate a changé deux fois et dans chacun des cas, aucun personnel n'était au comptoir pour nous aviser. Il a fallut qu'on aille regarder sans cesse sur l'écran afin de comprendre la situation. Nous sommes donc arrivés à l'aéroport de Nha Trang, soit Cam Ranh International airport 35 minutes en retard.
En 5 minutes suite à notre débarquement, le personnel de Amanoi Resorts était là à nous accueillir, prendre nos bagages et hop dans l'auto! Un voyage d'une heure et quinze minutes était planifié pour ce rendre au resort qui se retrouve dans le Parc National de Vinh Hy.
Nha Trang "is average", says a lot of people from Vietnam, but that's only because you've been to the wrong place. Meet Amanoi…
First of all, in a nutshell, Aman Resorts are widely considered to be the best hotel chain in the world. They are known for being retreats with their small room counts at isolated locations. They have impeccable service, and all their properties goes way beyond the confines of what it means to be a luxury hotel. By impeccable service, we mean little things like you will never be asked for your name or room number, as they are expecting you like family, and check-in's are done in-room. Expect no actual reception desks or bellboys. An Aman experience is an outstanding different experience, let us embark you in our journey.
// Plusieurs personnes qui sont au Vietnam pour un bon moment se disent, mais Nha Trang ce n'est pas tant impressionnant, je vous dirais c'est parce que vous ne connaissez pas encore Amanoi…
Tout d'abord, nous voulons vous présenter Aman Resorts, considérés de loin comme la meilleure chaîne d'hôtel dans le monde. Ils sont reconnus pour être très secrets, privés, ayant tous des propriétés dans de endroits isolés, mais surtout avec une scène naturelle magnifique. Le service du personnel est impeccable, excédant même celui de plusieurs chaînes d'hôtels de luxe. En ce sens, nous entendons par là aussi de petits détails, comme du fait qu'ils ne vous demanderons jamais votre nom ou votre numéro de chambre! Le check-in se fait dans la chambre, sans stress, donc n'attendez-vous pas à une salle de réception. Une expérience avec Aman est une expérience différente et exceptionnelle, laissez-nous vous embarquer dans notre voyage.
The Arrival at Amanoi
Greeted by great staff and Sean, the General Manager, Amanoi gave us a very welcoming arrival. Escorted to our room and presented as our home, it did feel like we were at home. Simple, cozy, close to the nature, our room is overlooking the beautiful sea. It was of course too dark to see much, but during the day is absolutely outstanding.
We went right down for dinner, enjoying great suggestions of the staff. Perfect meal with the addition of a speciality drink of Amanoi. We had a fabulous night sleep.
You want to know more about Amanoi? Read more on Blouinartinfo.com.
// L'arrivée à Amanoi
Avec un accueil à bras grand ouvert du personnel ainsi que du Directeur Général, Sean, nous avions eu le sentiment d'être accueillis par notre famille. Pour se rendre à notre chambre, nous devons prendre un mini golf kart. La chambre est à couper le souffle avec une vue de l'océan. C'était le soir donc nous n'avions pas pu voir grand chose, mais durant la journée c'est une toute autre histoire! Dommage notre chambre n'aie pas de piscine privée, parce qu'il y a des pavillons, qui bien sûr sont pus coûteux, qui ont leur propre piscine avec une magnifique vue des montages et de l'océan.
Vous voulez en savoir plus sur Amanoi? Lisez mon article sur Blouinartinfo.com!
Waking up at Amanoi
We decided to not put the blinds and enjoy the natural light to wake up early. It was a little bit cloudy but the morning breeze was fresh. Breakfast at Amanoi isn't what we expected. The pho, traditional soup of Vietnam, didn't have a lot of flavour. After a very satisfying dinner the night before, we were expecting the same in the morning.
// Se réveiller à Amanoi
Nous nous étions réveillés avec le soleil, tôt, mais juste parfait pour une douche ouverte regardant l'océan et les montagnes. Le petit déjeuner n'était pas aussi bon qu'on le pensait, après un souper de roi la veille. La soupe tonkinoise manquait de goût, bref c'était pas impressionnant. À ce moment là, nous étions vite impatient à l'idée de manger le souper!
The beach
For lunch, there are two options. In your great balcony in the villa or by the beach, which is a great idea. I will let the pictures speak for themselves about how stunning is the scenery.
// La plage
Pour le diner (dit-on à la canadienne), c'est soit dans la chambre sur le beau balcon avec la vue des montagnes et de la mer, ou sinon c'est au bord de la plage. Le choix fût évident, nous étions au bord de la plage avec une belle piscine (encore!). Je vais laisser les images vous montrer la beauté de la place…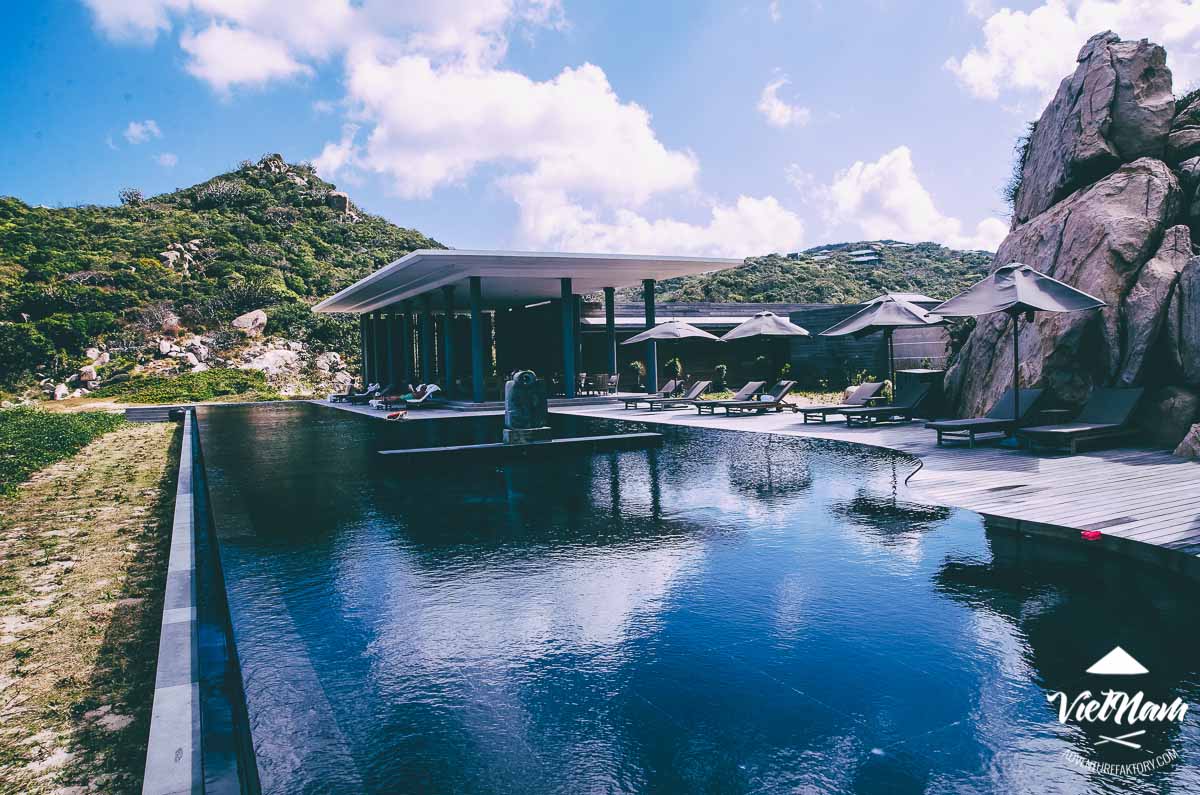 The cliff pool
The dramatic cliff pool overlooking the blue waters of Vietnam's coastline in the Ninh Thuan Province. We could feel the absolute solitude…
// La piscine au bord de la falaise
Un coin paisible, complètement isolé de tous, il est rare que vous rencontrez d'autres invités du resort. Avec cette vue dramatique, vous vous perdez complètement dans un autre monde imaginaire…
Gym & Spa
Located on the lotus lake, our favorite is definitely the private villas with jacuzzi and relaxing chairs overlooking the breathtaking view of the mountains and the lake. You would never want to leave that paradise that looks like a postal card straight out from somewhere like in Japan.
// Le gym et le spa
Situés de l'autre côté de la côte se trouve un lac très romantique aux allures d'une carte postale venant directement du Japon. Nous y retrouvons le studio de pilates, le gym, la salle de yoga au bord du lac et entendu le spa. Paix garantie.