As savvy travellers, we love regular comfort and lavish stays. This love for suites in hotels has started quite young for Thuymi as she grew up for the first 15 years of her life literally going yearly to hotels in Atlantic City, staying in large suites with her family and friends. Now that we travel on our own all around the world, we wanted to make sure we share to the world our favorite, handpicked and most beautiful hotel rooms available that we will be stumbling into!
#AdventureFaktorySuites is an Instagram series where you can get inspired from our stays for your future holiday destinations. It is also a series of story telling around these majestic stays on our website. Have heard of amazing spots? Beautiful resorts and hotels? Do tell us so we add it to our Suites Bucket-List! With #AdventureFaktorySuites series, we will make sure you discover Suites and Special rooms, because hey, we are all curious right?
Back to our recent Vietnam trip, as regular visitors to Asia, we're always looking for hotels that provide a little special something. Asia is full of gems! Before we moved out of Saigon in 2015, Hotel Des Arts had just opened its doors and we were not able to pay it a few nights visit. Not to worry as we have returned to Nam and it's a no brainer to spend a few lavish nights in this incredible hotel that's part of the M Gallery and Accor Hotels family.
With a grandiose feel when you step inside the first big doors, you are greeted with a huge classical foyer. Check-ins for preferred members and executives are done at the 22nd floor in the Executive lounge, where we can come daily for a more private breakfast, Afternoon tea and drinks in the evening… unlimited!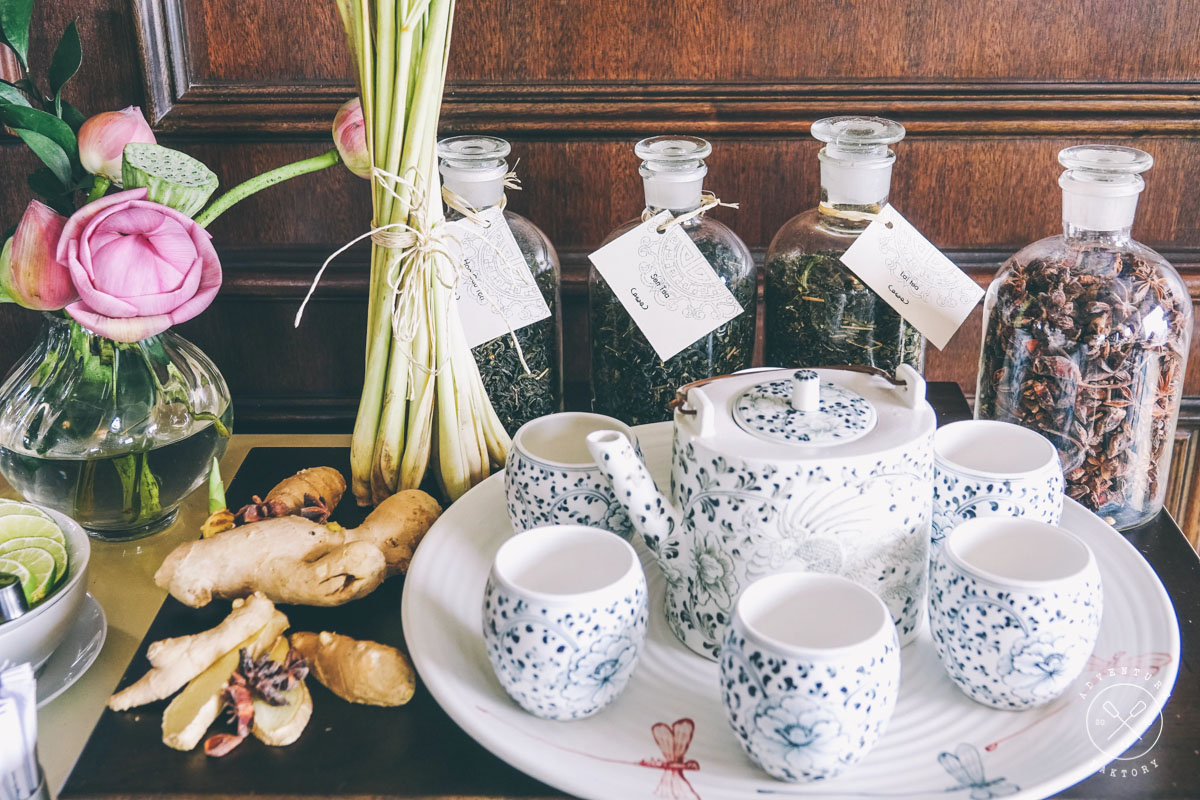 We stayed in the Sky Grand Deluxe room with bathtub, with access to the Executive Sky Lounge. The average price is around 200 USD/night for the room, but the price very much fluctuates depending if you are staying on the weekend or high/low season. We were right of the edge of the high season, still during the raining season and avoided the weekend.
Is Hotel des Arts Saigon well situated?
The key question in selecting your place to stay: where is the location? The hotel is located in central Saigon, right in the border of District 1 and District 3, 2 blocks walk away from the Reunification palace, the Notre-Dame Church and nice coffee shops and restaurants! It is a 20/30-minute taxi ride from the airport, like any location around D1/D3 would take. This location is one of the perfect spots from where to explore Saigon by walk. Note that there are many key places you can stay that are all convenient, but all depending on what you need to be near by. A taxi anywhere in D1/D3 should be less than 60k Dong, which is less than 3 USD. Make sure to stay tuned for our upcoming article Where to stay in Ho Chi Minh City.
How is the brunch at Hotel des Arts?
Amazing. The first thing we were recommended to do is to try out their Sunday Brunch. When we use to live in Saigon, we were big "Brunchers" and knew each and single one of them. It is certainly not like Dubai with over 20 brunches, so we quite knew our thing in Saigon!
So after our swift check-in, we went as soon as possible to the brunch in the Social Club. Upon being sat down in huge comfortable lounge chairs, there was a big range of drinks to try from. The meat and cheese bar, the seafood station, the incredible desserts, oh my, just look at the pictures…We probably added 2 kg to our bodies with all this yummy food!
Learn more about the Brunch at the Social Club Saigon.
Eat & Drink at Hotel Des Arts Saigon
The place has one restaurant and three bars. Breakfast is served in the Executive room if you are a member, but we recommend to at least have one day at the all-day dining restaurant, Saigon Kitchen Restaurant, that has a bigger variety of dishes including a big array of fresh fruits and juices. The bars are located in the lobby (also the beautiful location for Afternoon Tea @ Hotel des Arts), the top floor and on the roof top bar, all part of The Social Club.
How is the spa at Hotel des Arts?
Staying at the Hotel des Arts, we made sure to pay a visit to the Spa Des Artistes and try something a little bit different than usual. We opted for their Signature Massage and was quite different indeed at first, not like the regular Thai Massage we get in Asia! We felt so distressed as they banged a few times on our backs, but then that quickly changed and we quite enjoyed it. We usually go for the same types of massage but this Signature massage was very well worth it!
Pool? Yes! Beautiful one on the rooftop. Gym? Yes!

How was the stay?
In a nutshell, we loved it. We didn't enjoy the pool and rooftop bar as much as we did in 2015 due to the rain, but we still loved it and dipped in nevertheless! So glad we finally stayed there after we have recommended it to so many friends even without having experiencing it ourselves.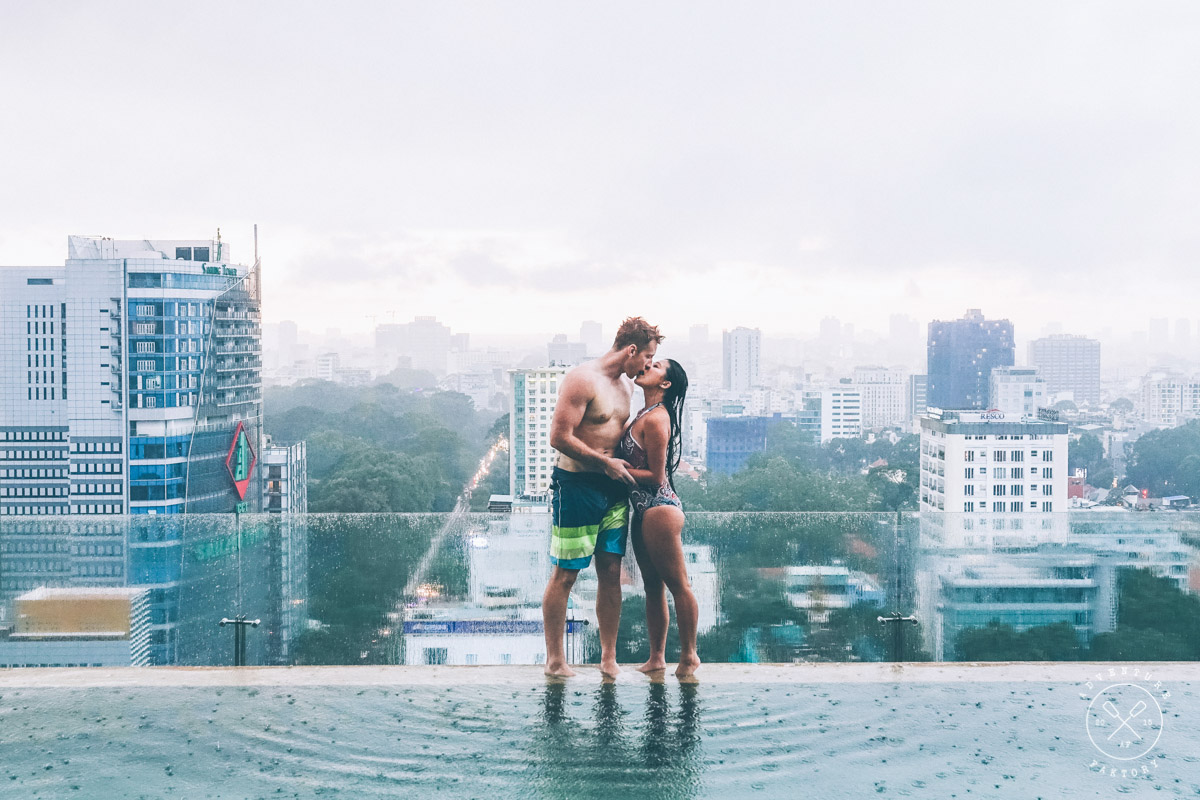 Check out our first article about Hotel des Arts & The Social Club.
Disclaimer: This article contains affiliate links. We use them as a way of assisting us in maintaining our website and follow our passion.  Please use them when you are booking as it supports us greatly. This stay is not a paid collaboration and all opinions are our own. Thank you.