If you are looking for central place to stay in Bangkok, with a blend of modern and classy, then look no further. Kimpton Maa-Lai Bangkok has a host of facilities, restaurants, bars, live music and many of Bangkok's top tourist attractions are in close proximity. Most importantly, do you like pets? Well, it is a VERY much pet-friendly hotel welcoming your cat and dogs, scattered with contemporary art pieces on every wall you can find. A true blend of vibrant energy and great hospitality in one stay!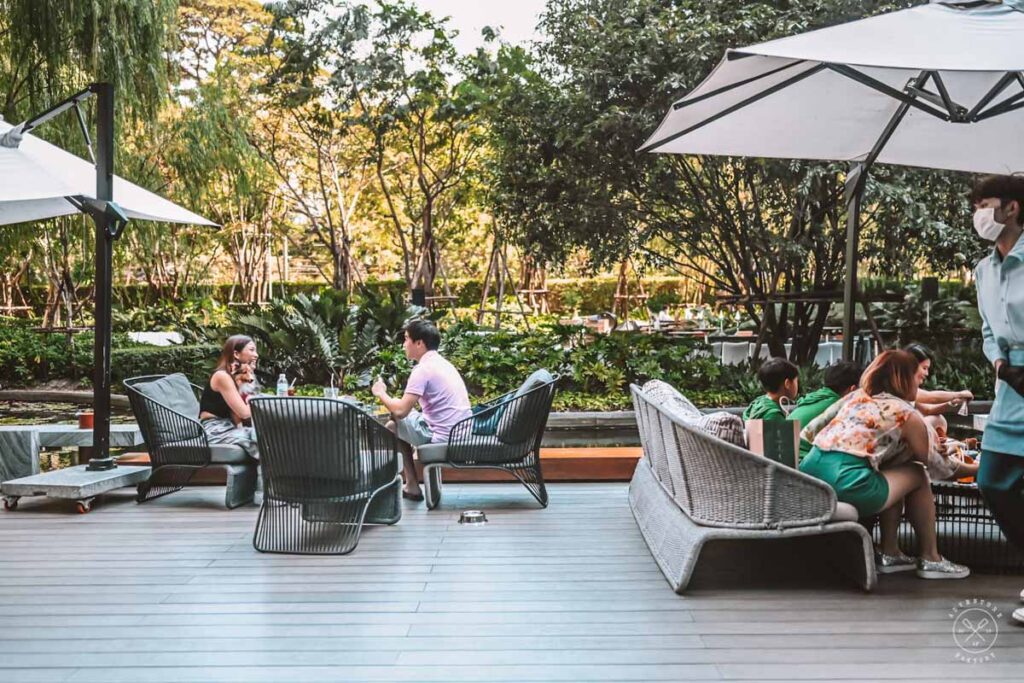 Location of Kimpton Maa-Lai Bangkok
In one of the absolute prime hotel spots in all of Bangkok, the Kimpton is close to large shopping malls such as MBK and CentralWorld and a short walk to Lumpini Park. You are also in close proximity to the metro system, which gives you access to many more places in Bangkok.
Rooms at Kimpton Maa-Lai Bangkok
With 362 hotel rooms, including 131 serviced residences, the hotel has a community-type feel to it. We stayed in the King man-lai – Green Lung view studios and our first opinion of it is how spacious it is. With only four rooms on our level, each room comes with a walk-in wardrobe, double vanity, massive bathtub overlooking the park, king-size bed, relaxation couch, TV area, and an office enclave to get some work done. The shower has an option of the rainforest or shower head setting and there is so much space in every room to throw suitcases and clothes. With large draped curtains, your room can be as dark as you wish, or you can watch the work well into the evening.
Food and drink at Kimpton Maa-Lai Bangkok
With four dining options for guests to choose from, you are able to enjoy coffee, cocktails and desserts all the same time.
Bar Yard
This is the rooftop bar that is full of action. From guest shifts to pumping music, world class DJs as well as a view of the whole of Bangkok, it is a spot that must be enjoyed when you are staying here. Excellent and knowledgeable bar staff will be able to guide you through a cocktail and drinking journey best to suit what you like and love.
Ms. Jigger
Located on the lobby floor, Ms. Jigger is the home of cocktails and has an enormous range of drinks to choose from. "If a message can fit into a bottle, then a story is poured into each of my cocktails" is the motto here. With a small amount of seating, make sure you book on weekends so you won't miss out. The go-to cocktail for us here is the Siam Milk Punch with a Chicken Liver canape.
Craft
The Craft bar is one of the centerpieces of the hotel. Located in the heart of the lobby, it is home to great coffee, cocktails, and also many sweets and delights. There is also the Sunday brunch here and a great place to people-watch. Also, the majority of the dogs sit and chill around here so if you are dog lovers like us, this will be your place to be.
The Stock Room
We don't say this too often, but this is one of the best breakfast setups that we have had in our travels. From the decor, themed eating areas, design… and we haven't even mentioned the food yet. The chef's special is exceptional and there are stations for Asian food, a delicatessen, a fruit station, and Western style. Did I mention the amazing donuts that are fried to perfection? It gets full so try to get down nice and early so you can enjoy the brekkie for that little bit longer.
Facilities at Kimpton Maa-Lai Bangkok
One of the crowd's favorite areas is the outdoor/indoor pool area. On the third floor, next to the gym is an area that has both under cover and outdoor seating. The pool is long and is half shaded and half sun-facing. The infinity pool overlooks the park and Bangkok skyline and is great to sit and enjoy the view.
The Fitness area is open from 6am-10pm and is a well-spaced, well-resourced hotel gym. They have more than enough weights and equipment for a range of lifting and cardio activities. If you like, you can enjoy the fitness classes that are put on. They have yoga, dance classes, and Muay Thai boxing for you to try.
The Mai Lii Library (not currently open) is a cozy spot that take up the entire 30th floor of the hotel. It is designed specifically to host meetings and provide a quiet space for residents and guests to relax and get away from all the Bangkok hustle and bustle.
If you are someone who likes to tackle a city on the bike, then the Kimpton also has several free bikes that you can use. Located in the lobby, they are there and ready for you to hop on. Bangkok is a hustling city not suited for bikes, but if you are keen, then go for it- it will be quicker than some of the traffic jams.
Kimpton Pets has a motto of Happy Pets, No Regrets. They accept any pets, no matter the size, how many scales they have, their weight or breed, they are all welcome. While we don't have any pets, it was great to see all the happy animals around without feeling like we are in the zoo. They even have an assortment of animal beds, grooming kits, ear are, food bowls and treats for you to have a great animal experience.
Spa Experience at Kimpton Maa-Lai Bangkok
Amararnth Spa by HARNN – With HARNN designing your spa, you know you are in for a treat and this is no exception. With a plethora of small, artistic rooms for relaxation and using organise ingredients that are designed to revive, you will ocme out of here feeling like a brand new human. You can book a spa treatment, or if you want to splurge you can book the whole day.
Our personal overall Experience of Kimpton Maa-Lai Bangkok
This hotel is one of the more unique ones that we have been to. It has such a young person vibe, but still has the comforts that allow anyone to enjoy their time here to the maximum. If you love eating, it has more than enough options inside and around for a week's worth of food. There is contemporary art on every wall and it gives the hotel a "cool" vibe from the second we walked inside.
One of the impressive parts of the Kimpton is how Dog friendly it is. With no cleaning fees, there are dogs (on leashes and very well-behaved) everywhere and it helps create a fantastic environment of action and joy in the lobby and surrounding areas.
Another great aspect of the hotel is the free drinks they provide for you every night 5-6pm at the poolside bar. As a way to get the guests to socialize, they have a few drinks (both alcoholic and non-alcoholic) and get everyone together to enjoy the evening. This would have to be a first for us that a hotel has done this.
It is certainly not your usual luxury hotel stay, but we are glad it wasn't normal, normal is boring and this was anything but.